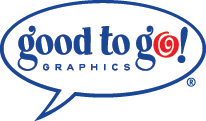 Easy-to-Use Big Signs with Maximum Impact!

FOAMBOARD PANEL SIGNS
Foamboard Panel SIgns are extra thick 72" x 36" foamboard signs that are held upright with a weighted metal base. The full-color panels are double-sided and each measure 72" x 36".

Base with Foam Panel $439.90
Foamboard Panel only $299.95
Weighted Metal Base only $139.95
Each job requires a processing fee of $25, which includes 15 minutes of art time. Additional art time is billed at $15 per each 10 min. Call Customer Service toll-free for details, 866-323-0700. Custom sizes are available. Printing price is the same with or without copy. Save even more on Large Quantities! Call for a FREE quote. 866-323-0700.

All ideas, images, and concepts © Copyright 2003-2011 Good to Go! Graphics® Inc.