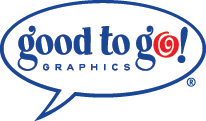 Use ANY DESIGN to create ANY PRODUCT!

Banners for ANY Application!
---
BANNERS
Everyone needs a banner now and then, and Good to Go! Graphics gives you more options for great-looking banners. Choose any size, vertical or horizontal. Best of all, our banners are full color! Unlike many sign shops, you're not limited to one or two colors. Use photos, graphics and as many colors and fonts as you like, all for the same low printing price!

Use pole banners in the parking lot to motivate drivers to stop by. Announce sales. Direct foot traffic to new stores or special events. Or change your decor quickly just by changing your banners. Our banners are priced by the square foot, so it's simple to figure out your savings!

If you're not sure what kind of banner you need, call us toll-free at 866-323-0700, and we'll walk you through it. Banners with sewn pockets, extra large banners, cloth banners and custom-shaped banners are also available by quote. Each job requires a processing fee of $25, which includes 15 minutes of art time. Additional art time is billed at $15 per each 10 min.

BANNER TYPE
SINGLE SIDED
DOUBLE SIDED
Laminated Paper Banners
$6.50/ft2
$13.00/ft2
Vinyl Banners
$8.00/ft2
$16.50/ft2
Pricing is for 10 banners or less. Please call for a quote on quantities over 10. Price includes grommets or simple pockets for hanging. Banners with sewn pockets, extra large banners, cloth banners and custom-shaped banners are also available by quote.



TOP
---
RETRACTIBLE BANNER STANDS
Retractible Banner Stands are stylish, portable and easy to assemble. They pop up in minutes, just like a window shade. Perfect for Trade Shows too!

BEST SELLER!
Price includes printed banner!
Available in Black or Silver.
31.5 x 84: $289.95



TOP
---
MINI QUIKBANNERS
39" x 11" Banners as low as $10.95 each!

QuikBanners are paper banners that measure 39" x 11", and can be produced in record time!

$10.95 cardstock banners
$16.45 for laminated cardstock.

---
UNIVERSAL DISPLAY STAND
The Universal Display Stand is made from sturdy metal, and can hold both banners and foamboard posters.

The sliding bracket easily adjusts up and down to hold your signs at any height you desire. display just one poster or banner, or display two signs back-to-back for a double-sided effect.

Universal Display Stands are economical to ship, easy to assemble, and store in very little space when not in use.

ONLY $144.95 EACH


The UD Stand can adjust to display banners and posters up to 7 feet high and 4 feet wide! You can even use two UD Stands side-by-side for extra-wide foamboard signs. Dress up unsightly construction barricades, or create "Coming Soon" signs with big impact! Let your creativity flow!
TOP
---
All ideas, images, and concepts © Copyright 2003-2011 Good to Go! Graphics® Inc.