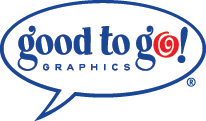 Magnetic Signs for ANY application!
ONLY $14 per square foot!

Magnetic Signs are the perfect solution for dressing up your Center's vehicles. Add a marketing message, your Center's logo, or even just a splash of color. Custom shapes are available. Unlimited colors.

Only $15.95/sq. ft.
All ideas, images, and concepts © Copyright 2003-2011 Good to Go! Graphics® Inc.